Well, a week ago today we left Yellowstone and headed home to Washington state and wrapped up our (almost) month long trip across the country that came about with Miette trying to figure out what she wanted to do for her Make-A-Wish. She didn't want to do Disney World or Disney Land. She said she "couldn't keep it" so the idea of going to see  "Mee-maw" (her grandma) morphed and changed form until it finally ended in an Airstream (which she could keep) and a cross country trip.
Something About Those Airstreams
We woke in the morning, around 5:30am. The girls were eager to get an early start so we would make it home in time to see their good friends who lived across the street. They were scheduled to depart on a 2 week trip of their own the following morning. It takes a while for us to get completely ready to roll, so, after coffee, we were heading out of the Fishing Bridge RV Park at 7:30am. Low and behold there was a fellow Airstreamer leaving the park as well – first one we saw in Yellowstone. They waved to us with a thumbs up, we waved back. They turned left, we turned right.
For some reason, its always cool to see another Airstream. Maybe its because we saw about 13,924 white boxed travel trailers on our trip and only a dozen Airstreams.  It's refreshing to see that glimmer (sometimes a blinding glare) of the silver when looking down the row of standard RV's. Not trying to knock those without an Airstream; I understand Airstreams are expensive and it really limits who can acquire one. However, vintage Airstream's are out there for the same price, and most of the time less, than newer model white box trailers. The vintage Airstreams may not have all the latest greatest bells and whistles, but they last longer and provide that satisfaction of not blending in. But then again, some people don't mind blending in… to each their own. I personally didn't like travel trailers at all – but Airstreams, now those just are just cool looking and provide enough nostalgia for me to put down my backcountry pack (for a bit) and pick up the hitch. But I digress…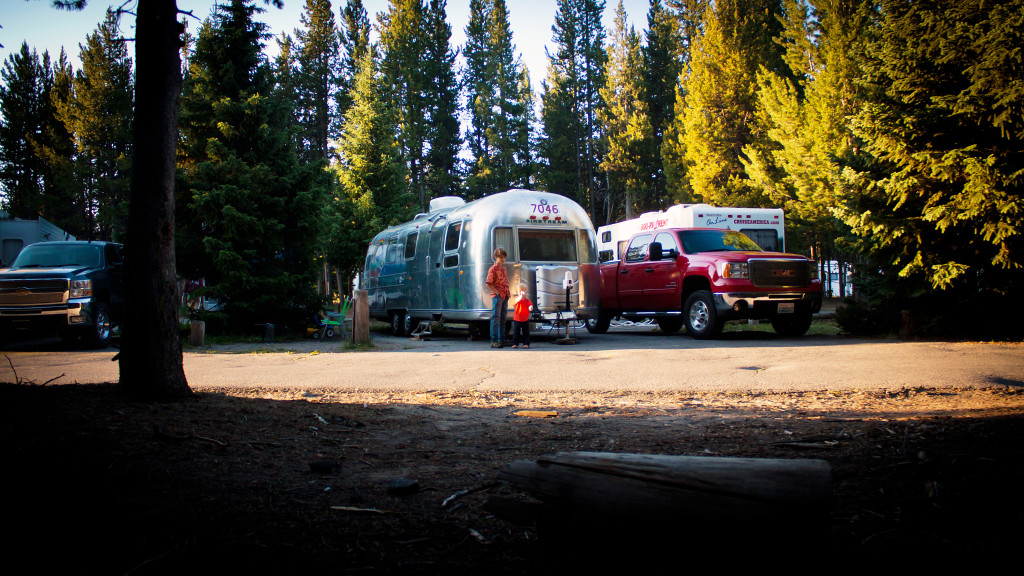 Back to our day
On our way out we saw a large herd of bison in the Hayden Valley and a few more that were still laying in the grassy spots. A couple were walking along the white fog line of the road, close enough to force us to slow almost to a stop in order to get by in case they decided the crosswalk was right where they were standing. We were heading north to leave Yellowstone through Mammoth Hot Springs area and the northern entrance. We made a quick potty stop (already) at Roaring Mountain, showed the Airstream to an interested elderly French couple and took off, pushing the pedal hard (until reaching 35mph).
The north entrance has its coolness with the Golden Gate and the Terraces and is probably more interesting than the eastern entrance inside the park; but when it comes to approaching Yellowstone, the eastern way still takes the cake.
We freaked out a little going through the Golden Gate and boulder field just after, hoping there wouldn't be an oncoming tour bus. We dropped down into the small summer city of Mammoth Hot Springs and saw a herd of elk cooling off in the shade 10 feet off the main road/parking lot. We then dropped further down, leaving Wyoming, entering Montana into Gardiner. Of course we did meet a tour bus exactly at the bend at the Roosevelt Arch – we survived.
Once we left the park, a couple of the kooks fell asleep so we were off and running for the next couple hours, passing by a couple Airstreams within minutes of each other. This day was the day we saw the most Airstreams in one day. Maybe it was National Use Your Airstream on Friday Day? In total, we saw about 6 Airstreams that day. One of Miette's favorite things to do was to keep an eye out for any Airstreams. When someone spotted one it went like this:
Person 1: "AIRSTREAM!! THERE!!" (Pointing off into the far distance)
The others: "WHERE?? WHERE??"
Person 1: "Over there!" (still pointing off into the distance)
The others: "WHEEEERE???"
Person 1: "THERE!!" (pointing to the Airstream that was now passing by)
The others: "Oooooo, coooooooool!"
Lunch and Beyond
Once child #3 and child #4 awoke, it was time to stop for lunch, fuel and coffee. We ate at Joe's Pasty Shop in Butte, Montana. The staff was extremely nice and helpful and the food was good. If you're stopping in Butte for lunch, check out Joe's Pasty Shop. However, if you're stopping in Butte for coffee, don't expect much. The place we stopped at (I won't mention any names like Florence Coffee Company) pulled our shots just shy of 10 seconds. Oh well, it's maintenance coffee at this point, even though there is no way enough caffeine is going to get extracted in 10 seconds.
On our way towards Idaho, we finally passed an Airstream heading in the same direction as us, for the first time. It was a 34 foot Excella (three axles). Man, that thing was long; once we started passing, it took us a couple hours to finish. We waved with happy faces as we passed the towing vehicle, only to be greeted by what looked like a grumpy old man who didn't wave back. Umph. Well, nevermind then.
We encountered a forest fire on a mountain just off the freeway near the Idaho-Montana border and saw multiple helicopters dropping water on it: very cool to see the helicopters but I'm sure the homeowners close by weren't thinking the fire was too neat. After that, we stopped to fuel up. At this exit we saw what looked like another Airstream in a free overnight parking area (turned out to be an Avion). Low and behold, Mr. Grumpy Pants also pulled into the same parking lot with the Excella. We waved again, giving it one more chance.This time he gave a small little wave back. We'll take it, I guess. We were guessing he was just transporting that behemoth and not actually an Airstream owner. Maybe he was grumpy because he had to haul a football field length Airstream?
The rest of the trip home was the typical drive from northern Idaho to home. We passed by Sacred Heart Children's Hospital where Miette did treatment. She did her "thhhhhhhhbbbbpppppppptttt!" at the building as we passed. As parents, we have mixed emotions on that place. There are a lot of children suffering on that oncology floor (and other floors as well). We are thankful Miette is no longer a part time resident there but its also tough to not think about the others there. They treated us well there. The "thhbbpptt!" is more directed to cancer in general.
The Close Out
In closing out this trip journal, we'll say overall it was a great experience. Obviously, as a family of 6 there were times when personalities made things difficult. The travel days were long but overall the kids did really great. We passed up a lot of sights that we would have loved to stop at. Unfortunately time was not on our side. A word of advice for those seeking to do a cross country travel trailer trip: take more than a month. One month was not enough at all. There are things you don't realize are out there. If you're planning it all out, I'm afraid your plans will be left at a rest stop on the second or third day.
Even though we all had great fun on this trip, we all agree on this: We would give this whole thing up; the Airstream, the trip, the sights, the experiences… we would give it all up without batting an eye, if it meant Miette didn't have to go through what she went through in 2012. So the lesson is this for all those with young families, as we should have learned before: don't wait till something horrific happens to your family to determine you need to spend more time as a family in adventures like this. The world will not fall apart if you decide to go a huge trip like this – it actually keeps turning.
So get your maps out, get your gear ready and do it now!