We arrived in Oakland Mills, Pennsylvania around 3:00 am this morning. It was the longest day of the trek so far but we were not going to stop for another night. We decided to make a small (seemed small at the time) side trip about 45 minutes up I-75 in Ohio to the small town of Jackson Center… where the Airstream headquarters and production facilities are located. We arrived at 2:20 p.m. just as the only tour of the day was heading outside to the service center. Nothing but Airstreams. Nice ones, not so nice ones, small ones, big ones, vintage ones, motorhomes, choppers (courtesy of Jesse James), etc, etc, etc.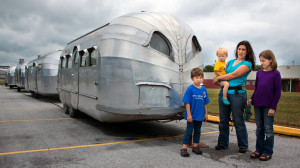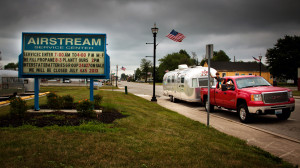 We toured the production line (long tour) and got to see how they make the $80,000 new models. The kids were done with the tour about 20 minutes into it so after the hour long tour was done, we bolted for the store, where they had cookies and other goodies. We picked up a few relatively inexpensive things in the store (hats and caulking), lusted for more expensive items (solar panels, air vent fans, rock protector, new Airstream, etc), repented of the lusting and then had to get going.
Overall, the kids did excellent on the trip. They were the ones we were worried about the most with the 50+ hours in the truck, but they were great. What caught us by surprise was the condition of the roads and the amount of construction. Thankfully, we never ran into delays, just a lot of rough surfaces. Don't get me started on the aging U.S. highway system. I gave the roads a harsh talking to while navigating what at times was the Oregon trail.
You know you're on a cross country trip when you start out in Illinois during a huge hard hitting continuous thunderstorm, see the Airstream factory, drive by 3 huge Honda factories, cross over 5 states and finally pass a horse and buggy on a curvy narrow two lane Pennsylvania road at 2:00 am to end your day.  Whew!