The last post I wrote, telling the story about our journey with childhood cancer, ended with Miette's smiling, yet nervous face suddenly falling asleep in the scanning room. Lisa wasn't in the room, she was with Brier in the waiting room. I went into the scanning room with Miette to stay with her until she was sedated. I mentioned the uneasy feeling about seeing and experiencing this part. It was just me and her. I was trying to keep things light with her, smiling and joking, taking pictures of her… but on the inside I was scared as all get out. One of the hardest, hardest, HARDEST parts of being a parent is staying emotionally collected during times like these. I realized I had to; there was really no choice. If Miette saw how scared I was, then that would be a horrible thing to do to her. The amount of strength it took to stay calm for her was more than an entire day of playing ball, but it was all within those 10 minutes of her getting connected with wires and ready for sedation. Once Miette's eyes rolled in the back of her head and the nurses closed them, I kissed her on the forehead and whispered my love for her. They said they'll take good care of her and I left the room. I had already started failing to contain my emotions almost immediately after she went to sleep. By the time I left the room I was a mess. For some reason, the reality of what was happening came rushing in. I was standing in the deep sublevel bowels of a children's hospital, white hallways every where, not knowing which direction I was supposed to go; nurses, doctors and equipment were all around… we were now a part of 'it'. The 'it' being the nightmare. Our beautiful child was in the hands of strangers. Those few minutes of being alone were very, very dark minutes.
A nurse showed me how to get back to Lisa and Brier. From there we decided to try to go eat something. We looked through the gift shop a little bit after eating, trying to kill time while Miette was still getting scanned. We came back to the room where Miette was prepped and waited a bit longer than we were told for her to be brought back. They rolled her in while she was still sedated and explained to us how should would probably wake up. She had a breathing tube in her mouth and it might need to have assistance coming out when Miette started to wake up. About 15 minutes later she started waking up. She was very groggy but started to quickly come out of it. She saw us and dozed in and out for a few minutes. A Child Life Specialist (someone who helps talk to kids and helps parents while they are visiting the hospital) that met us when we first came in that day showed up. She started interacting with Miette. Around that time, the co-chief oncologist, Douglas Hawkins, came by and said he had the results of the scans.
The Doctor Shows Us the Scan Results
Oh boy, here we go. This was where the rubber meets the road. We didn't know much about Miette's cancer but we did know metastasis was NOT something we wanted to see. We didn't have any idea if the cancer was elsewhere. Was it all through her leg? Was it in her other leg? Was it in her lungs? Was it in her brain? Was it all over? Dr. Hawkins walked us to a computer sitting just outside the room. He logged in and brought up some images. He started flipping through images that didn't mean anything to me. Then I saw two legs. It was the MRI of her lower extremities. Two legs. One with a white blotch on it.
There it was…. the tumor. The cancer. The thing that builds hospitals. The round growth that brings in cranes and steel and large excavators and employment and parking garages… that small (compared to a hospital) round thing on her leg. It has changed our lives completely. It changes millions of lives every day.
It was a bright white compared to the rest of her leg. It was obvious. Something you could see from across the room. It was just a white splotch on her leg.
It was the scariest thing I have ever seen in my life.
Knowing that this round white growth was alive was a very creepy feeling. Like some evil thing was in the room… watching you. I just stood there looking at it for what seemed like an eternity. Dr. Hawkins was zooming in and out and changed to a different slice to show us the extent. He gave us a size: 2.5 cm. Then he started to look for the PET scan. The PET imaging showed how active the tumor was and if there was cancer anywhere else. This was the part we've been anxiously waiting for; has the cancer spread? He brought up the PET scan imaging and… no metastasis that they could see! It was just the tumor on the leg. I remember Lisa grabbing my hand and squeezing. We found ourselves having a mini, quiet, internal celebration.  There eventually would be many more of these "little victories" throughout her treatment. I never realized how important these little victories would be. If you're in this situation, go after those little victories. The goal is to get them to add up.
Dr. Hawkins brought up the CT scan images as well and said the lungs looked good and confirmed that there was no cancer in the lungs. At this point we started asking some questions: Was the cancer inside the bone? The answer was, no, not that they could see. How active was the cancer; how aggressive?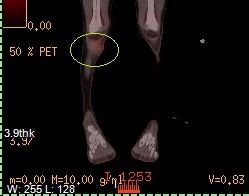 He brought the PET scan back up and told us the SUV rating on tumor was at 1.7. The SUV rating is also referred to as the FDG Uptake. FGD Uptake is considered the rate at which a cell consumes glucose. In my understanding, with a PET scan, Miette was essentially injected with nuclear glucose. The equipment that is used to scan for cancer actually detects nuclear isotopes that are attached to the injected glucose. The more a cell consumes the injected nuclear glucose, the more isotopes are collected in that area. Cancer is hungry for glucose more than most cells, so this is how the PET shows cancer. The isotopes show up on the scan as anything from dark maroon, to red, to yellow and then to white (low end to high end). Miette's brain was bright white with bright yellow on the edges. The brain devours glucose more than cancer, as it appears – at least more than Miette's cancer. Dr. Hawkins said this 1.7 SUV was on the low end, which was good – the lowest he has seen was a 1.5. The higher the number (and the brighter the spot, which Miette's was not bright), the more active and aggressive the cancer cells. He said the average SUV rating for Ewings Sarcoma was around a 5 – little victory. The high end would  be anywhere from 12-15.
Let's Talk Treatment
After the review of the scans (about 15 minutes worth of review) and having a better understanding of what was going on inside Miette's body, Dr. Hawkins brought us into another room while the Child Life Specialist (Sarah) stayed and kept company with Miette. Also joining us in our initial discussion about Miette's treatment was what's called a "social worker" employed by the hospital. This was not a DSHS social worker. This immediately raised flags with me and was the beginning of what would be an "awakening" to the dark, scary side of the medical establishment. A children's hospital may have a lot of whales, dolphins, pretty murals, cute animals, a positive as can be design with large daylight windows and smiling faces… but underneath all that, in the bottom floors, where the gears turn and hidden inner workings of the visible external "friendship" reside is where we found ourselves at that moment. Only, we didn't know how big the gears were. We didn't know the extent, so we still had a bit of naivety.
So there the four of us were. Lisa, myself, Dr. Hawkins and the social worker (I apologize, I can't remember her name). The social worker introduced herself and said she was there to help us, answer any questions and provide any resources we might need.
Yeah right.
Dr. Hawkins handed us a document with the treatment plan. It had the Seattle Children's logo, but was from the University of Washington Department of Pediatrics. It starts off with "Your child has recently been diagnosed with Ewings Sarcoma". I immediately thought this to be odd. My initial internal reaction was "Wow, they know exactly what they are going to do, even though we just found out the extent of the cancer". For some reason, this didn't compute. How could they know what to do before knowing what the situation was? This was the first time I felt like we were on a manufacturing line and that we've been there the whole day and didn't even know it. I felt stupid that I didn't recognize it. I understood everything was scripted since it was a day of scans, but now the treatment was scripted as well? They had this document printed out for us before we even arrived in town! In hindsight, this was the beginning of my realization that all cancers are grouped into treatments. I understood different cancers had different treatments, but as someone who never had to worry about it, I figured when someone was diagnosed with cancer, the patient sat down with the oncologist to figure out what to do next and what the best treatments would be, based on that person. Not the case. We were presented with a treatment based on Ewings Sarcoma, not Miette with Ewings Sarcoma. This was the beginning of trouble for us, though we didn't fully grasp the extent it would end up being.
Let's Start Tomorrow
Dr. Hawkins reviewed the treatment plan and said Ewings Sarcoma has a very favorable prognosis of a 75% five year survival rating. It used to be very low up until the 1970's and 1980's. Most kids died of Ewings Sarcoma before that – I think the number thrown out was under a 20% five year survival. Dr. Hawkins talked about the progression of surgery along with chemotherapy for a major reason why the rates increased. He stayed positive and confident that Miette would be with us in five years. Of course, we went to the side effects section of the document and starting asking about them. He agreed that there were some bad side effects and that chemotherapy "wasn't pretty". He didn't go a lot into the side effects outside of what was on the document. He stayed close to the document and didn't provide a whole lot of information beyond it. The next statement took us by surprise: He said he would like to start treatment tomorrow. Excuse me? Well, more accurately, he would like to put the port in Miette tomorrow and start treatment the day after that. He said this is what nearly all families do; start treatment immediately. Wow. We didn't hesitate for one second to say no. No way. Really? People just start without thinking about it? Without a second opinion? We were scared of cancer, but we also knew to be scared of chemo.
We Will Work Together With You
So, we declined starting treatment immediately and explained we'd like to go home and think about things. It had been an extremely difficult day and difficult week. He was OK with us needing time to think about it and promised us that "they are here to help us and work together with us to make sure Miette has the best chance to come through this". Ok, we thought, cool. We'll go home, research the treatment and find a naturopath to work with. We knew going into this that chemotherapy would be the treatment that the hospital would recommend. However, this was completely contrary to our way of life, regarding healthcare. Allopathic care was not in our bag of tools. But we still understood cancer enough to know chemo was on the table, even for us. We asked if his team is open to working with a naturopathic doctor, since that is our philosophy on healthcare. He explained as long as it doesn't interfere with the chemotherapy's effectiveness, then yes. We asked about what the hospital and treatment intended to do about nutrition. Dr. Hawkins said we would be assigned a nutritionist. That's it. That was the extent of treatment outside of chemotherapy – a nutritionist. We were not impressed.
We left the meeting feeling a little better (not really, but its hard to explain – little victories) about Miette's situation – knowing the cancer hadn't spread and that it wasn't as aggressive as it could have been – but still scared (as you know what) about our daughter having cancer. We were also beginning to sense an uneasy feeling with what we now call "the establishment". It was only Seattle Childrens back then. Now, with more understanding, we realized it is a whole lot more than just one hospital. Of course, it was February in Seattle; overcast, light rain, dark trees, cold – you get the picture. Dark and gloomy and our child had cancer. We were still numb and probably pale faced by the time we left the hospital doors. But we got out of there as quick as we could once Miette was fully disconnected and fully awake. We weren't going to spend one extra minute there.
To be continued…